We had become very aware over the last few years that the toilet and washing facilities in Community House were in need of a serious overhaul. They were cramped and hard to keep clean, the showers weak and not always hot enough, etc. These facilities dated back to the time our warden, Tony Jaques, first took on the role - 25 years ago this April 2020. Thank you for your patience with them (and Tony? Just kidding ;-D)!
Well...it's happening!!! Working with a local architect and designer, we have planned a toilets and washrooms revolution! The first floor washing area will be totally transformed. The work began in January and was almost complete when we had to close the centre because of Covid-19. We can't wait to welcome visitors back to lovely new facilities when the crisis is eventually over. :-)
The Funding
The budget for completion is £82,000. £40,000 will come from Othona's central reserves, thanks to a decision of the trustees. The other £42,000 we are compiling from a legacy (£5,400), a portion from the warden's special projects fund, and crucially from individual donations made in the last three months. These stand at nearly £25,000 - a wonderful total. Would you help us grow it even further?
If you'd like to contribute financially, please use the 'Donate' button below or get in touch with us in any of the usual ways. (We will contact you about Gift Aid if that could apply to your donation.)

Thank You
We want to say an especially big THANK YOU to everyone who responded to our recent fundraising appeal. We don't want to name people individually, as some wish to remain anonymous. But you know who you are and you know this would not be happening without you!
Follow the Progress of the New Facilities!
We will be adding photos to the album below as the new facilities become a reality. Just click on the image to open the album.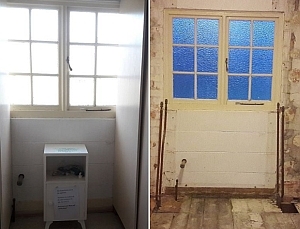 ...and here's a video of a fun farewell and thank you to the departing showers and loos. (You know we couldn't pass up the opportunity! :-D)
...and an early version of the architect's plans (further tweaks have happened). Courtesy of Fischer & Associates.