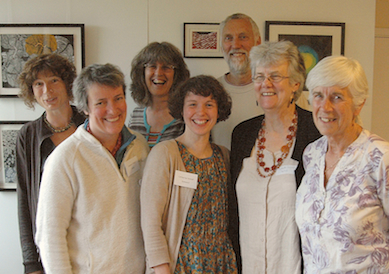 For 16 days in late May and early June our chapel and library turned into an art gallery. We were part of a festival all over Dorset involving a thousand artists and crafts people. Five Othona artists were exhibiting their work and almost a thousand people came through our exhibition over the fortnight. It was a wonderful time. One final statistic: what with art sales, cards and prints, and cream teas which we offered every afternoon, some £6,400 changed hands, a healthy proportion of which ends up with Othona.
But money and numbers weren't the heart of the thing. It was just a privilege to play host to the various artworks, from Elizabeth Sayer's subtle textile portrayals of trees to Mart Tebb's bold abstract landscapes, from Emma C Tabor's intricate imagined shapes to Sue Kemp's close-up studies of seedpods. Edward Robinson contributed a range of beautiful and enigmatic sculptures (complementing his triptych which hangs in the chapel all the time). Conversations between members of the public and the artists (four of whom acted as stewards) were often fascinating. Conversations about Othona and what it exists for were just as valuable. The interplay between spirituality and creativity is a real growth area in our community life, it seems to me.
I must add that we couldn't have done this without an absolutely fantastic team effort. As well as the artists, Othona owes particular thanks to Ali Tebbs, Robin Shaw, Catherine Siddall, David Butler, Katharine Hall, Pat Osborne, Pat Barclay, Carole Atkins, Lindy Brett… and all our cream tea volunteers.