Submitted by

Robin Shaw

on Wed, 25/07/2018 - 20:21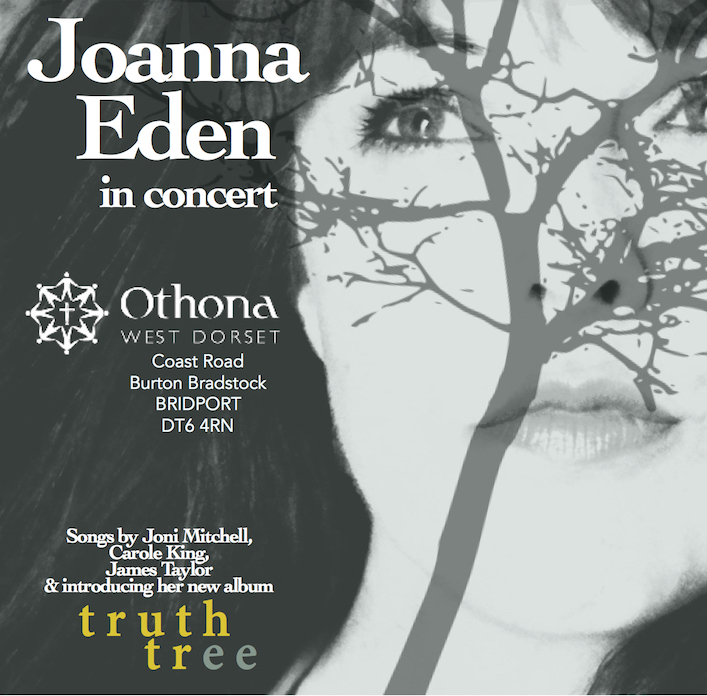 On 16 August 2018, Othona will have the pleasure of presenting the beautiful music of the creative, warm and funny soul that is Joanna Eden, who is in the South West launching her new album, 'Truth Tree'.
In a twenty year career, Joanna Eden has shared stages with The Buena Vista Social Club, Jamie Cullum, The Blockheads and Ronan Keating as well as her superstar student Sam Smith who was her backing singer as a teenager. The Grammy and Oscar winning artist has cited Joanna simply as "The reason I sing". Sam studied with Joanna for nine years although she laughs:
 "It didn't feel like teaching or studying, we were just two kids in a candy shop, loving music together and having fun!"
Joanna's previous albums have been played on BBC Radio 2 and received rave reviews in publications like Mojo, so she has high hopes for her new album 'Truth Tree'.
"I'm so excited to be touring this album to beautiful churches, chapels and cathedrals all over the country!" 
Joanna will also be at Combeinteignhead 17th August, Exeter Cathedral 18th August, St Lawrence Chapel in Ashburton 19th August, before heading back for the London launch at Stoke Newington's beautiful Old Church on 19th October, singing songs from 'Truth Tree' and her favourite artists.
"If you like the music of Joni Mitchell, Carole King, James Taylor and Kate Bush, 'Truth Tree' should appeal to you."
Joanna has led wonderful, creative, inspiring family events here at Othona West Dorset. Click to see photos from her event, 'Let's make a Musical', in 2015.
The concert is at 7.30 on Thursday 16th August. Tickets are £10. You can book online via joannaeden.net/tickets or by phoning Othona on 01308 897 130.
Visit Joanna Eden in Concert 'read more' page for videos and to learn more about Joanna and her music.