Submitted by

Robin Shaw

on Thu, 05/03/2020 - 00:23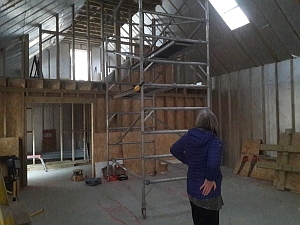 Four Seasons Studio, our new multi-purpose building that's being built on the site of our beloved but bedraggled Art Building continues to grow right before our very eyes. We are very excited and fascinated having a front row seat to its construction. Hats off (or maybe 'on' given the miserable weather?!) to Dave Fowler's building team. They have carried on working throughout the storms (Respect!) and have begun the internal fitting phase of FSS.
You can see for yourself in this short 40 second video recorded at the beginning of Feb. And/or have a look at our Four Seasons Studio Team page and/or the photo album of the current phase of the project (Construction + Internal Fitting). Woohoo!