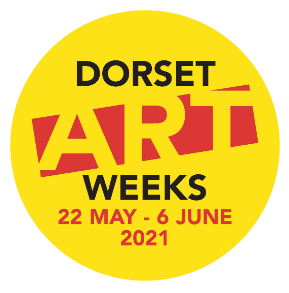 DAW2021 app - click here!  Get the app for your phone. Great for finding artists and venues. 
Sat 22 May to Sun 6 June 2021
Exhibition opening times: 11.00-5.00
 Cream Teas, Coffee+Cake: 11.00-12.30  and  2.30-4.30
This year we are delighted to be opening for Dorset Art Weeks by exhibiting in our spacious chapel. It's a great oppportunity to welcome people back and to introduce newcomers to Othona.
Our recently completed Four Seasons Studio will be open for visitors to see the wonderful new facilities and we will be offering our delicious homemade cakes+coffee and cream teas in this beautiful venue.
Othona's group of established and emerging artists all have links with the Othona community, which has enriched their practice. The work includes collage, drawing, textiles, printmaking and painting. If you are unable to visit the exhibition in person, use the links below to visit the artists' own websites to see more of their work or to contact them directly.
We look forward to welcoming you to Othona. Come and see the art, enjoy a cream tea, and a walk around the grounds - where the orchids will be in bloom! All covid precautions will be taken to ensure the safety of our artists, residents and visitors.
Othona West Dorset and the Othona Artists
Ali, Elizabeth, Emma, Jo and Robin
Here's a 5 min video of the exhibition and the new Four Seasons Studio!